---
If you ever find yourself on vacation in the UK (lucky you) you'll probably do what we do on every single trip away from home – you forget something pretty essential. Whether it's just your toothbrush, or something a bit more important like underwear (oops), a padlock for your suitcase, or some bed linen to go in your campervan, there are shops all across the UK that can deck you out with everything you could need. And they're pretty darn cheap, too.
Wilko
If you're staying in self-catered accommodation during your stay in the UK, you might need to stock up on basic groceries, cleaning products, kitchen utensils, and homeware – just to make it that little bit more special! But where can you buy them? Well, never fear. If you head to any high street in the UK, you will probably find yourself in front of the red, white and yellow signage of a Wilko shop. With cheap prices, own-label products and even a few branded products, Wilko has everything you could want… just maybe not the kitchen sink. Although they do not sell fresh produce, they do sell everything from biscuits to crisps (chips to you, but you're in the UK now!), garden equipment if you fancy buying a disposable BBQ or a bucket and spade for the beach, and of course, ENGLISH TEA!
Primark
The Primark brand is known across the globe. With stores across the UK, Ireland, Germany, Spain, France, The Netherlands, Austria, Italy, Portugal, Belgium and the United States, it's unlikely that you've never seen or heard of Primark before – which is great, because Primark will be your saving grace if you ever need a cheap, tourist friendly shop while you're in the UK. If you're looking to stock up on your current on-trend wardrobe, then Primark is the place to be. With clothing from as little as £1, you could buy a whole new wardrobe for less than £100! (Although we can't guarantee this will fit in your suitcase home). Over the past decade, Primark has been increasingly popular, with new and improved products each year – from clothing to accessories, to health and beauty, to homeware and more.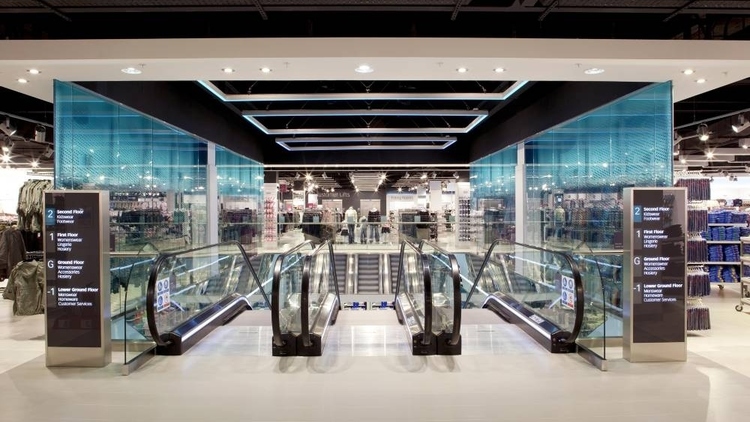 Matalan
If you've never been to the UK before, the likelihood is that you've never heard of Matalan. This British retailer offers its customers everything from clothing to homeware – all for cheap prices! With over 200 stores across the UK, you'll need to travel a bit further out of town to find the stores as they are almost always placed away from the main town center, but it will definitely be worth it. As well as offering cheap and fashionable clothing items, many of the Matalan stores also sell concessions such as books and jewelry, just in case you want to add a little extra to your shopping trip.
H&M
This Swedish brand is another high-street store that you will be able to find anywhere in the world – especially in the UK. In fact, there are nearly 20 stores in London alone! H&M mainly deal in clothing, so it's not worth a visit if you're not willing to give in to the pretty clothes. But the best part? The prices are all so reasonable. And with stores all across the globe, you might even be able to get your hands on that dress you've been eyeing up at home.
The Range
Another typically British retailer is The Range. And believe us, this store will blow your mind! This company opened their first store in 1989 and have since taken the country by storm with their products. If you're not fussed about buying any clothing (unless you fancy buying a ski jacket), The Range offers everything in the realm of home, leisure, and garden. So if you're going camping (which we highly recommend), you can buy a camping stove. If you're looking for a few cushions to make your accommodation look even nice, you can find them here. And if you're looking to take a relative a nice plant pot, you can find it here! They're pretty cheap, too.
So if you find yourself in the UK and need a cheap tourist friendly store to buy food, clothing, kids' activities, or pretty much anything else – you know where to start!