With so many brilliant characters on the classic sitcom Just Shoot Me, it's hard to try and keep up with them all, so let's just start with the talented women of the show. Since the show was canceled in 2003, just what have they all been up to? We have answers.
Rebecca Romijn as Adrienne Barker
Adrienne Barker is a model that comes into the show during season three. Dennis Finch claims the pair are in a relationship, much to the other's disbelief. However, Dennis proves them wrong as the two are soon engaged, but face a problem when Adrienne's ex-boyfriend turns up looking for trouble.
The couple ties the knot, but things soon crumble when Dennis comes to the realization that they are both very different; they end up splitting shortly after. Adrienne reappears to ask whether Dennis would rekindle their romance, but they decide to remain friends
Rebecca Romijn – now
Before breaking into acting, Rebecca Romijn earned her fame through her modeling work. However, she has since found herself cast as the shapeshifter Mystique in the X-Men films.
Her initial role as the character in 2000 earned the now 45 year old actress two acting awards, as well as securing her a part in three more of the movies. One of her other most famous roles was when Rebecca starred in Ugly Betty as Alexis Meade. Her most recent work includes playing the character Eve Baird on the show The Librarians.
Tiffani Thiessen as Amy Watson
Maya Gallo is looking for a new assistant when she stumbles across Amy Watson in the sixth season. However, David Finch and Elliot DiMauro both fall for her, so they begin a rivalry to win Amy's attention.
It is David that believes he comes out on top after he helps Amy with her cat. At the end of it all, Jack Gallo warns the two men that their behavior is beginning to affect the workplace, so they both decide they won't try and pursue anything after all.
Tiffani Thiessen – now
Before the show, Tiffani Thiessen was famous for her character of Kelly Kapowski on Saved by the Bell, but has since gone on to have an incredible acting career.
At 43 years old the actress has been in shows such as Fastlane where she played Billie Chambers, and White Collar in which she played the character, Elizabeth Burke. While she has had roles in various movies too, Tiffani hasn't been on the big screen since 2008. Next year we are set to see the release of Alexa & Katie, a Netflix show that will star Tiffani as the leading role.
Rena Sofer as Vicki Costa
Vicki joined the magazine team during the seventh season of the show in 2002. The character was hired off the street by Jack Gallo after the pair met.
She appears in fourteen episodes of the show during which Elliot DiMauro tries to pursue a relationship, but makes her exit before the finale. However, we learn that she has a problematic relationship with her husband who even turns up at the office in a bid to win his wife back.
Rena Sofer – now
After appearing on the show, Rena Sofer was involved in some television flops, but had since made a name for herself after landing some major movie roles in Traffic, and Keeping the Faith.
The actress took a short break after her youngest daughter was born but bounced straight back into acting when she appeared as a regular character on the shows Heroes, and 24. Since then Rena has become most recognized for her role as Quinn Fuller in the drama The Bold and the Beautiful as she has appeared in over 550 episodes to date.
Ali Larter as Karey Burke
Maya loves to take on a project, and this time she finds one in the form of Karey, who has been studying at college thanks to Maya's advice.
However, the youngster reaches a tough decision: does she stay on in education, or drop out? Well, Maya is trying everything to keep her in school, while Nina appears on the scene to try and convince Karey to pursue a career in modeling as she thinks she'd be a star. Throughout her time on the show, Karey causes mayhem with her clumsiness.
Ali Larter – now
Ali's role on the show was one of her first characters that she managed to land (not a bad one, either!), and was just a stepping stone on the path to success.
Since her time as Karey, the actress went on to land probably her most prominent role to date, well, roles as she played Niki Sanders, Jessica Sanders, and Tracy Strauss all for the series Heroes. The characters were a huge success for Ali as she became hugely popular with the audience, and it led on to roles in both Legends, and Pitch.
Amy Sedaris as Betsy Frayne
Betsy Frayne is hired by Jack Gallo to join the security team at the office. This doesn't sit well with David Finch as he confesses the pair went to college together.
However, it isn't their college time together that has caused David to worry, but what Betsy did. He accuses her of stealing his personality all those years ago. However, Elliot DiMauro believes that the pair are, in fact, perfect for each other, so attempts to set the two up, much to David's disgust.
Amy Sedaris – now
Over the years, Amy Sedaris has kept herself busy with all the work she has done. Amy has had minor roles in shows such as The Closer, Raising Hope, Kevin from Work, Horace and Pete, and Broad City.
The 56 year old actress hasn't kept herself in the background though as she has also had starring roles in shows such as The Heart She Holler, Alpha House, and her most recognized role as Princess Carolyn in BoJack Horseman. Amy continues to act and do voiceover work to date and it looks as though there is still plenty more for this actress to come.
Rhoda Gemignani as Rhoda DiMauro
Rhoda DiMauro is introduced to the show in season three as Elliot DiMauro's mother.
During season four Rhoda decides to leave her husband after hearing some advice Nina van Horn was giving out to a group of Nature Scouts. Jack Gallo and Rhoda goon to have a brief fling during the show's Thanksgiving episode the following season, but they don't take their relationship to the next level. Over the next few seasons, Rhoda continues to crop up in episodes here and there.
Rhoda Gemignani – now
In real life, Rhoda Gemignani has never managed to be cast as a significant role.
Before she appeared in the series, Rhoda had cropped up in TV shows such as Friends, Seinfeld, and Who's the Boss? as she has been acting since 1963. Since her time on Just Shoot Me, it appears as though she decided to slow things down for the following decade or so. However, in 2015 we saw Rhoda return to the small screen when she was cast as Mrs. LeBlanc in Episodes.
Laura San Giacomo as Maya Gallo
Maya joins the show in the pilot episode after she was fired from her previous job.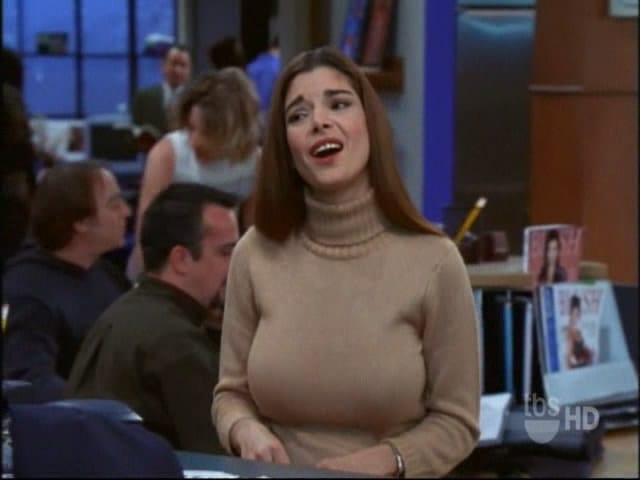 This forces her to take a job at her father, Jack Gallo's, magazine where she works as a no-nonsense journalist. She was often having disputes with other members of the team at the magazine as she has strong views about how women should be viewed. We get to see many of her relationships over the series, even seeing Maya and Elliot DiMauro engaged for a time.
Laura San Giacomo – now
In recent years Laura has continued to act, with her latest role being Morgan Wilson who she played in the drama Animal Kingdom.
However, her most prominent role since the cancellation of the show was when Nina brought the character of Rhetta Rodriguez to life in Saving Grace. When she isn't acting, Nina is an active supporter of charities, mainly choosing to support causes that help the disabled. It is the passion she has to help others that saw Nina found a school for disabled children in California that, to date, caters to nearly 700 young people.
Stephanie Romanov as Nikki Ellston
Nikki made an appearance during the fourth season of season two. She had previously dated Elliot DiMauro who tried to warn Dennis Finch about what she was like.
However, his warnings didn't go far as Dennis began dating Nikki. He soon learned what Elliot had been talking about as Nikki started to act outrageously, with one of her hobbies including locking her boyfriends in a human-sized birdcage and forcing them to swing on a perch. Needless to say, David and Nikki's relationship didn't last long.
Stephanie Romanov – now
Stephanie Romanov rose to fame when she began modeling, but decided to drop it all to pursue a career in the acting world instead.
Her time on the show was one of many appearances on our screens as Stephanie has also been in The Closer, Hotel Alexandria, and Seven Days. As well as this, Stephanie starred alongside Robin Williams in The Final Cut, and was a regular on the spin-off show Angel, a show that followed on from Buffy the Vampire Slayer.
Jenny McCarthy as Brandi
David Finch is in for a surprise during season five when his old friend Bert pays him a visit, only Bert is no longer Bert; he has transitioned into Brandi.
David begins to develop feelings towards his friend, but it doesn't go far. During the seventh season, David takes Brandi to the high school reunion so that he can have a date, while Brandi can go without revealing who she is. It is here that Brandi learns a former crush of hers actually had secret feelings for her in school, too.
Jenny McCarthy – now
Jenny McCarthy has continued acting over the years with several minor roles in shows. Some of the shows she has been involved in include Charmed, What I Like About You, and Chuck.
Jenny also managed to bag her own self-titled talk show before a stint on The View, but was asked to leave in 2013 (the same year she joined the show) after she spoke about her controversial opinions on vaccinations. Jenny now appears on reality shows that follow her and her husband's lives.
Brooke Burns as Kelly
Kelly is one of the cover girls for the magazine during the seventh season. She first makes her appearance in the Halloween special episode after she is invited to a party Nina is hosting.
However, it isn't long before Jack Gallo and Dennis Finch are competing for her affection. Kelly ends up choosing Dennis at the party, but things never escalate any further – what a surprise after the Peter Pan costume; looking good in those stockings, Dennis.
Brooke Burns – now
Before making her appearance on the show, Brooke has become most well known for her role as Jessica Owens in Baywatch.
Ever since she has been able to star in a vast number of different TV shows and movies. Some of her most recognized characters are in the shows Pepper Dennis, Miss Guided, and Melrose Place. However, since 2010 the actress has been focusing more on her television film roles. Currently, Brooke is filming for her latest production, Christmas Connection, in which she plays the character of Sydney.
Cheri Oteri as Cindy
Cindy is hired as Maya Gallo's assistant during the second season. She is eager to learn, and even more willing to please as she can't wait to start her new job at the magazine.
However, there is one downfall: she isn't very good at her job. Maya struggles to keep on top of her work which ends with Cindy having to leave her new position. Cindy does make another appearance during season four, but we don't see her in the show again after this.
Cheri Oteri – now
Cheri Oteri has had plenty to keep her occupied since her time on the show.
Not only did she go on to become famous for her Saturday Night Live performances, but she also managed to land many roles in both movies and TV shows. Cheri has appeared in Scary Movie, Dumb and Dumberer, Boston Legal, Sit Down and Shut Up, and The New Normal just to name a few. It has recently been announced that Cheri will be starring in two upcoming films next year that are both currently in their post-production phases.
Tyra Banks as herself
Tyra was enlisted by the magazine to be photographed for one of their covers. However, it doesn't go to plan as the men of the office, notably Elliot, all have feelings for her.
Elliot manages to scare Tyra away, but not before she gives him a speech about how she and all models should be respected by men rather than stared at. She eventually agrees to return the following day to partake in the photo shoot where Elliot tries to make it up to her
Tyra Banks – now
Over her career, Tyra Banks has appeared in many television shows and movies where she mainly plays herself, including Tropic Thunder, and Larceny, but has reprised her role as Eve to star in Life-Size 2 that is set to be released in 2018.
Outside of the acting world Tyra is famous for her modeling, with her show America's Next Top Model still airing to date since its initial launch in 2003. The model has also launched her own cosmetics company that she runs in between her acting work.
Jessica Walter as Eve Gallo
Eve Gallo is Maya's mother, and Jack Gallo's ex-wife. She appears in one episode during the third season, but her presence causes an explosive atmosphere.
Eve and Jack don't get along, but Maya wants to try and put an end to her parents arguing. She tries threatening to cut both of them out of her life which leads to them agreeing to dinner together. Jack has suspicions that Eve is only there because she wants to win back a painting that she lost to her ex in the divorce, which is brought up during their meal.
Jessica Walter – now
This now 76 year old actress has continued to have a thriving career in the last decade.
Since the show, she was able to land a regular role in Arrested Development where she played the character, Lucille Bluth. Her part in the sitcom saw Jessica Walter win a number of awards, as well as be nominated for plenty of others, too. Another major role for the star was playing Maggie in the show Jennifer Falls, but the show was canceled after only ten episodes. Most recently Jessica has been seen in the shows Justice League Action, as well as Difficult People.
Kathryn Joosten as Mrs. Pierce
Mrs. Pierce is the landlady in charge of the building where Elliot DiMauro is interested in getting an apartment.
However, she puts up some barriers for him to overcome as Mrs. Pierce prefers young couples that are married rather than renting out to bachelors. Elliot decided to introduce Maya Gallo as his wife and even goes as far as to kiss her in front of his potential new landlady. Mrs. Pierce is seen later on in the episode when she invited the pair to a party she throws weekly for the tenants of the building.
Kathryn Joosten – now
Kathryn Joosten was most recognized for her role as Karen McCluskey in the show Desperate Housewives who she played until the finale of the show in 2012.
The character also won the actress two Emmy Awards. She had some minor roles in television shows over the years too, but tragically Kathryn passed away in 2012. The actress had been battling lung cancer, and her death came just 20 days after her on-screen passing as Karen McCluskey.
Sasha Barrese as Tess
Tess is the daughter of Chloe, Nina Van Horn's daughter she put up for adoption, making Nina Tess' grandmother.
She is introduced during the sixth season, and makes three appearances on the show. She managed to shock her grandmother who had no idea she existed. Nina had always worried about appearing young, but quickly accepts her new role and welcomes her granddaughter into her life. The two, in fact, have a lot in common with their interests and personality traits.
Sasha Barrese – now
Sasha Barrese went on to play Sally Franklin in Run of the House, but the show was canceled in 2004.
Following this, she has had several minor acting roles in TV shows but shot to fame when she was cast as Tracy Billings in The Hangover trilogy. However, since the final movie in the series was released in 2013, this 36 year old actress hasn't been seen on our screens again. She hasn't got anything lined up either so it may be a while before we see this star again.
Cassidy Rae as Kaylene
Kaylene has a long list of roles during her two episodes in season four. Not only is she one of the magazine's cover girls, but Kaylene is also studying at Yale as she wants to become a doctor.
She certainly knows how to live a hectic life! During the episodes, she is dating Elliot DiMauro (which doesn't go down well with a certain other co-worker), but he panics when he realizes how close the couple have grown so jumps ship.
Cassidy Rae – now
Cassidy's time on the show was one of her final television appearances. Since then the actress has made small appearances in Rude Awakening, as well as Zoe, Duncan, Jack and Jane.
In addition to her work on the small screen, Cassidy has made two appearances for short films over the years, including Swordbearer, and Fluffy 1947. However, at 41 years old, Cassidy has announced that she plans on slowing down her work to begin winding down for retirement. Her last appearance in a production was during 2014, when she played a soldier in the short film Fluffy 1947.
Paula Marshall as Chloe
After years of hiding the secret from the rest of the cast, Nina finally comes clean in season six and admits that she had a daughter many years ago who she put up for adoption.
We discover that her daughter has, in fact, been trying to track her down over the last few years, and who is her daughter? None other than Chloe! She has secrets of her own though as she reveals to her mom that she is now a grandma. There are some disagreements with how Chloe's daughter will be raised, but all in all the family are overjoyed to be reunited.
Paula Marshall – now
Before her time on the show, Paula had already been able to make an incredible breakthrough into the acting world which has just continued to grow as the years have gone on.
Paula has had roles in plenty of shows, including Two and a Half Men, Gary Unmarried, Murder in the First, and Gortimer Gibbon's Life on Normal Street just to name a few! Her most recent role was playing the character of Diane for the hit comedy movie. We Love You, Sally Carmichael.
Gina Gershon as Rhonda Ferrara
As sisters go, Rhonda is entirely different to her sister Vicki Costa as she is the louder half with a potty mouth to rival a sailor's.
She immediately falls for Elliot DiMauro, but he only flirts with her to make Vicki jealous – not a good move. Elliot has to enlist the help of David Finch to help get him out of the love triangle he has created for himself. Maya eventually steps in to stop David from hurting Rhonda's feelings.
Gina Gershon – now
Over the years Gina has been in a huge number of TV shows and movies, including some of her most famous roles in the series Cleaners, Lost In Oz, and Red Oaks.
She has also had several minor characters in various shows but has some big projects on the horizon. Gina has not one, not two, but five movies all in the post-production phases that are due to be released any day now! We can't wait to see what else this actress is going to be offering up to us.
Wendie Malick as Nina Van Horn
On the show, Nina Van Horn works as one of the fashion editors at the magazine. She appeared in every episode of the show where she had various featuring storylines.
It is revealed that Nina once had a daughter that she put up for adoption, but the pair are reunited in the sixth season where it is discovered that Nina is now a grandmother. Due to her previous career as a supermodel, Nina continually worries about how she looks throughout the show.
Wendie Malick – now
Now in her late sixties, Wendie Malick has appeared in many movies and TV series since the finale of the show.
Some of her work includes playing roles in The X's, About Fifty, and Big Day, but her most notable part was for playing Victoria Chase in Hot In Cleveland. Wendie continues to act to date as her latest television movie, Engaging Father Christmas, was released in November 2017. This actress is also highly sought after for voice-over roles due to her recognizable voice.
Kristin Bauer van Straten as Allie
During season five we are greeted by Allie, Jack Gallo's ex-wife. She is introduced during the finale of the season as she demands that she is offered a job to agree with the settlement of their divorce.
However, Allie confesses to Dennis Finch that it is, in fact, a ploy to try and win back her ex-husband. Sharing her secret led her and David to grow close as by the next season we see the pair together. Jack discovers what has happened, immediately firing David who goes to work for Snoop Dogg.
Kristin Bauer van Straten – now
Over the years Kristin Bauer van Straten has been cast as various minor roles.
These include shows such as Two and a Half Men, CSI, Desperate Housewives, and Lore, but also managed to get herself some starring roles. From 2008 to 2014, Kristin played the character of Pamela Swynford De Beaufort in True Blood, as well as having a recurring role as Didi Stone in The Secret Life of the American Teenager. When she isn't acting, Kristin continues to paint and draw, both things she has done since childhood.
Amy Farrington as Michelle
Michelle makes a guest appearance to the show during season seven where she appears in two episodes.
Dennis Finch takes it upon himself to comfort his co-worker she turns up to work distraught. He plans that she will want to lean on him for support, with Dennis hoping that it will escalate into a relationship, but Michelle quickly pushes him away. Michelle reappears later on in the season during the finale of the show that was never aired.
Amy Farrington – now
While her time on the show may have been short, in reality, this superstar actress has made quite the number of appearances.
Over the years Amy has appeared in Malcolm in the Middle, Bones, The Middle, Grey's Anatomy, The Protector, and Hung – that's not even half of it all! In fact, this year Amy has found herself landing roles in five TV shows alone! These include Man With a Plan, and The Mick, but when she isn't on the small screen, this actress is playing the part of Principal Kate in the film Special Unit.
Christine Ebersole as Margo Langhorne
In reality, most people have a rival in some aspect of their life. Well, Nina van Horn was no exception to this, especially after so many years in the modeling industry.
Margo was a fellow model that had always managed to butt heads with Nina over the years as the two competed at photoshoots and landing contracts with agencies. This all comes to a head in the show when the two women get into a fight. However, Nina is left devastated when she learns that Margo is retiring from the industry.
Christine Ebersole – now
Landing characters has never been a problem for 64 year old Christine as over her career she has appeared in a vast number of shows.
Some of her roles include leading parts in Related, American Horror Story, Retired at 35, Sullivan & Son, and, most recently, Search Party. Her latest character is named Grace, and she will appear in the fantasy film Starbright due to be released anytime soon. When she isn't working, Christine enjoys spending time with her three adopted children.
Ana Gasteyer as April
Oh, Dennis. Will you ever learn? Jack Gallo entrusts Dennis to stop by the house to check that his new nanny, April, is alright.
However, Dennis quickly finds himself in a rather…interesting position with April. And not once, but twice! The pair does the deed without knowing that Jack had secretly hidden a camera in the house to keep an eye on things while he wasn't there. Hearing the news quickly wipes the smile off Dennis' face.
Ana Gasteyer – now
While her role on the show was brief, in real life Ana Gasteyer is a comedy genius that has played a considerable number of characters over the years.
One of her most famous roles was for playing various characters on Saturday Night Live for nearly 20 years, but she has found plenty of work outside of the show too. Ana has also appeared in The Good Wife, Suburgatory, Dawn of the Croods, and The Goldbergs. The actress' most reason role has been as Karen Grisham for the comedy show, Lady Dynamite.
Joyce Bulifant as Fanny Finch
As guessed by the name, Fanny is Dennis Finch's protective and ever so embarrassing mother.
She wants to pay her hard-working son a visit during the fifth season, but Dennis has other ideas. In a dastardly scheme, he tried to set his mom up with Jack Gallo so that when they tie the knot, Dennis can finally inherit Jack's family name. However, nothing goes according to plan as Fanny ends up in police custody, and Jack remains single – oops.
Joyce Bulifant – now
Prior to her time on the show, Joyce had made quite the name for herself after her appearances on the Mary Tyler Moore Show, Sport Billy, and Flo.
The actress has been acting since the late '50s, but since 2005 has decided to slow down and enjoy her retirement – not that we can blame Joyce as she is, in fact, 79 years old. Her time on Just Shoot Me was one of her last productions before she hung up her acting shoes, but she did appear in the spoof film Tooken in 2015.
Kathie Lee Gifford as Allison Spencer
The glamorous Allison is introduced to the show during season five when she bumps into Dennis Finch at the office.
She is an author that specializes in romance stories and soon finds herself in a whirlwind romance of her own. Allison begins buying Dennis gifts in exchange for a relationship. At first Dennis is more than happy to abide by this, but eventually, he stands up to his new lover in front of the whole office to break things off.
Kathie Lee Gifford – now
Since the show, Kathie is best known for her time slot on the Today Show which she has appeared on with Hoda Kotb for the last decade.
A lot of this actress' other roles have been as herself, such as when she appeared in Donny!, Younger, and Girlfriends' Guide to Divorce. Her most recent movie role has been playing herself in the fifth Sharknado movie, but when she isn't acting Kathie does a lot for the charity Childhelp, an organization set up to help children in dangerous situations.