Viral sensation
Back in 2007, Allison Stokke was "just another" talented and ambitious American track and field athlete. She broke several pole vaulting records and had a side job as a model. Stokke was only a high school senior when someone took her photo during a competition and posted it online. The photo went viral and was shared thousands of times before the news producers picked the story and made it official: Allison Stokke was a viral phenomenon.
So who is she?
Allison Rebecca Stokke was born in California to parents Cindy and Allan Stokke on March 22nd, 1989. Stokke was the couple's second child as they already had a boy named David. Stokke's older brother competed as a gymnast for the youth team at a national level which may have been some inspiration for young Stokke to try her hand at gymnastics! However, she quickly decided it wasn't the sport for her and instead went on to find her true calling.
Starting vaulting
Picking up the pole and feeling the adrenaline with the wind rushing through her hair, Stokke soon found that her true athletic destiny was to begin pole vaulting. The young athlete was determined to make it big in her sport and quickly went on to become one of the best young pole vaulters in the whole country! By 2004, and at just 15-years of age, she managed to win the U.S. title and set an incredible record with a pole vault that was over 12 and a half feet!
Breaking records
While in her freshman year at high school, Allison Stokke's passion for the sport only grew, and she was soon setting even more records – especially for her age! In 2004 she went on to break her own record with a new jump of nearly 12 feet 8 inches. However, Allison Stokke again pushed herself even higher in 2005, while she was a sophomore, when she managed to clear a whopping 13 feet, 5 ¾ inches. These results were the best that had ever been seen in the country by anyone her age!
Senior year
By the time Stokke was in her senior year at school, she was already an incredible athlete. She was definitely one to aim to beat but was always setting the bar higher for any competitors. All over the country, Stokke managed to come second to anyone that pole vaulted at high school, and eighth after her try at the national championship for juniors in the same year. Her newest record was an astounding 13 feet 6 ¾ inches – that's over double the height of Michael Jordan!
That photo
The success that Allison Stokke managed to achieve in 2007, though, was entirely overshadowed by an unfortunate event. At 17-years of age, Stokke was innocently waiting for her turn in a competition she was participating in at the time, when a photo was taken of her. The photo didn't mean anything at the time, but when it was republished by the blog 'With Leather' that has a target audience of young males, it had quite the different effect on young Stokke. It would also lead to a very tough time for the athlete.
Too late
The photo featured on the blog under a demeaning headline about Stokke's appearance and not anything to do with the sport. This attention would soon lead the young athlete's life to begin to spiral out of control. The original photographer even threatened that they would sue the owner of the website if they didn't take the post down, but it was already too late. The internet had grabbed hold of the image and Stokke was soon becoming the latest internet sensation.
Internet fame
The photograph soon prompted a website that was set up in tribute to Allison Stokke. The web page had managed to get hold of many more images of Stokke pole vaulting, and they all soon began to circulate on social media. Several groups were set up on the internet where thousands of people soon became fans, often referring to Stokke as their 'internet crush.' The situation quickly escalated out of anybody's control and Stokke was unfortunately caught up in the ride!
International interest
As the popularity of the photo began to rise rapidly, the rest of the world soon started to hear about it too. Plenty of news articles emerged in the U.S. and were published in the likes of 'The New York Times' and 'The Washington Post,' but there was also features all over the globe! Reaching Europe, the story of theyoung athlete was broadcast in the UK and Germany and even went as far as Australia where there was a feature on a morning talk show.
Calming things down
Allison Stokke tried to take control of the situation by herself before it managed to escalate out of complete control, but there was just no stopping the power of the internet. The young athlete was soon receiving hundreds of phone calls and emails asking if she would be willing to do photo shoots, ending with Stokke having to look for a manager to help her handle all the attention! With all of the interest, there also came people that began to try and stalk her…
Trying to shift the attention
In an attempt to shift the attention back to what Stokke had initially wanted to be recognized for (her incredible pole vaulting skills) she was filmed doing an interview talking about the sport. Allison Stokke offered tips on how to perfect your technique and the video was later uploaded to YouTube. The video immediately got over 100,000 watches, but unfortunately, the comments weren't talking about how useful the pointers were. People were continuing to talk about Stokke's appearance and weren't focusing on her athletics at all.
Help from her father
Stokke's father, Allan Stokke, was a trained lawyer and began trying to help his daughter get away from the unwanted attention she was receiving. Trawling through the comments and everything that was said about his daughter, Allan worked to try and find whether anything that was being said was illegal, or if he could spot anybody that appeared to be stalking his daughter. This help would at least be able to reassure Stokke that she was in no danger, but they wouldn't be able to stop the internet.
A small positive
Trying to find any positives that came out of the unfortunate experience at the time, CBS did manage to turn it into an educational news story. The network televised what was happening to Allison Stokke and commented on how easy it was to make young people public figures for the wrong reason, and without any consent being given. The story aimed to highlight the dangers and the effects this kind of publicity can have on the people involved.
Negative effect
Stokke tried to take everything in her stride during this time and continued to compete even though there was now an entourage at every athletics meet-up she went to. However, Stokke admitted that the attention had affected her mentally after she described the whole thing as terrifying and completely against her own will. She even realized that she had to start making sure all the doors were now locked behind her to stop anyone being able to get to her! That's got to be a pretty horrible way to live.
Overshadowing
Commenting on the photo's fame, Allison Stokke was reported saying how upset she was that it wasn't her amazing athletic skills that had got her the attention, but instead, her looks. Her name had produced over 1 million search results by the end of the era. Unfortunately, many of the results linked to websites solely reporting on the athlete's appearance and nothing to do with her pole vaulting career. It would be a fierce battle for Stokke to overcome!
University
Trying to recover from the devastation of what had happened, Stokke continued with her studies as well as her pole vaulting. Stokke kept a low profile on social media after the whole event and decided to purely focus on what she needed to do to get into university. Allison Stokke was talented enough to get a scholarship for her athletics, and studied in her home state of California. While there, she joined the 'Golden Bears' track team to continue with her sport.
Continuing to set records
During her time at university, Stokke managed to continue to set records while competing in her sport. Managing to vault higher than she ever had at that point, her coach was careful to train her properly. She managed to do well in the competitions that she took part in, regularly finishing in the top 10. Stokke didn't let her sport distract her, though, and ensured that she focused on her work, especially in her final year. Stokke managed to graduate with a masters degree in sociology after finishing her time studying.
Olympics
Since graduating school and university, Allison Stokke has still maintained a keen interest in her sport. Trying to overcome 'that photo' and be remembered for her incredible sporting achievements, Stokke managed to set a personal best that she has yet to beat! Managing to clear 14 feet 3 ½ inches saw her once again fly through the air and land in success as Stokke continued with her passion. With the London Olympics firmly in her sights, Allison Stokke set her sights on qualifying.
Disappointment
Devastatingly, after working so hard and having to battle through so much, Stokke missed out on her chance to compete for the U.S. in the 2012 Olympic Games. With a lot of competition Stokke was one out of 12 other competitors that couldn't clear the height that was set at just under 14 feet. With the Olympics being the highest of many athletes' goals, hopefully, time will be kind enough to give Stokke another chance to qualify.
Modeling
During 2015 the superstar athlete took a different route in her career as she hung up the pole briefly to try her hand at a modeling career. With sports brands clamoring to get an opportunity to have the star model their lines, Stokke eventually accepted some offers. She was featured in the spring and summer collections for Nike, while also posing in a number of different outfits for Athleta. Her modeling career was just another success for the athlete.
GoPro 20
The company of the versatile camera, GoPro, helped give the world an insight into the life of a pole vaulter when they teamed up with Allison Stokke. The videos posted online show the athlete flying through the air from various shots, and angles we have never been able to experience before! With slow-motion shots showing just how every part of the whole jump is performed, to getting a view from the pole itself, the video helped the audience get more involved in the sport than ever before.
In front of the camera once again
During 2016, a clip was released that showed Stokke modeling the newest fitness collection from Uniqlo. She was shown to be modeling their latest collection while running along the street in a video for the brand. However, it seems as though Allison Stokke is giving up the modeling for now as she hasn't seen to be in any other campaigns recently. Perhaps another sports brand will soon be set to snap up the young star in between training sessions?
Rumours of love
After the summer of 2016, Stokke and Rickie Fowler were pictured together as they both attended a motocross Grand Prix, and were seen to be hanging out with each other. The two appeared to be sharing an inside joke with the captions they put up, as they both posted different photos to their own Instagram accounts which sparked rumors that they could, in fact, be more than just friends! The world was unsure as to whether to believe that the two were an item.
Rickie Fowler
Rickie Yutaka Fowler was born on December 13th, 1988, making the sportsman 28 years old. Fowler is a successful professional golfer, having played in the 2016 Olympic Games in Rio and the U.S. open. His career has seen him regularly appearing in the ten highest-ranking athletes of competitions and he continues to compete in the sport to this day. Although he has had only a few wins, this young golfer is set to have a fantastic career still ahead of him.
His own photo
At the end of 2016, the American golfing team amazingly were able to bring home the Ryder Cup for the first time in 8 years! During the celebrations, Fowler was photographed shrugging at the camera as his fellow teammates all celebrated by kissing their partners. This photo caused Fowler to become an internet sensation as the picture went viral. Having been known to mock his relationship status over the years personally, Fowler managed to create quite the storm with his pose!
Spilled the beans
Fowler's teammate dropped the news that Rickie Fowler and Allison Stokke were, in fact, dating after rumors had begun to float around the internet. At a press conference, Jason Day jokingly commented on his partner's absence from the meeting the team had had the day before. Day hinted that Fowler had, in fact, found himself a partner and the reason he was so busy was due to his new commitments with a new girlfriend…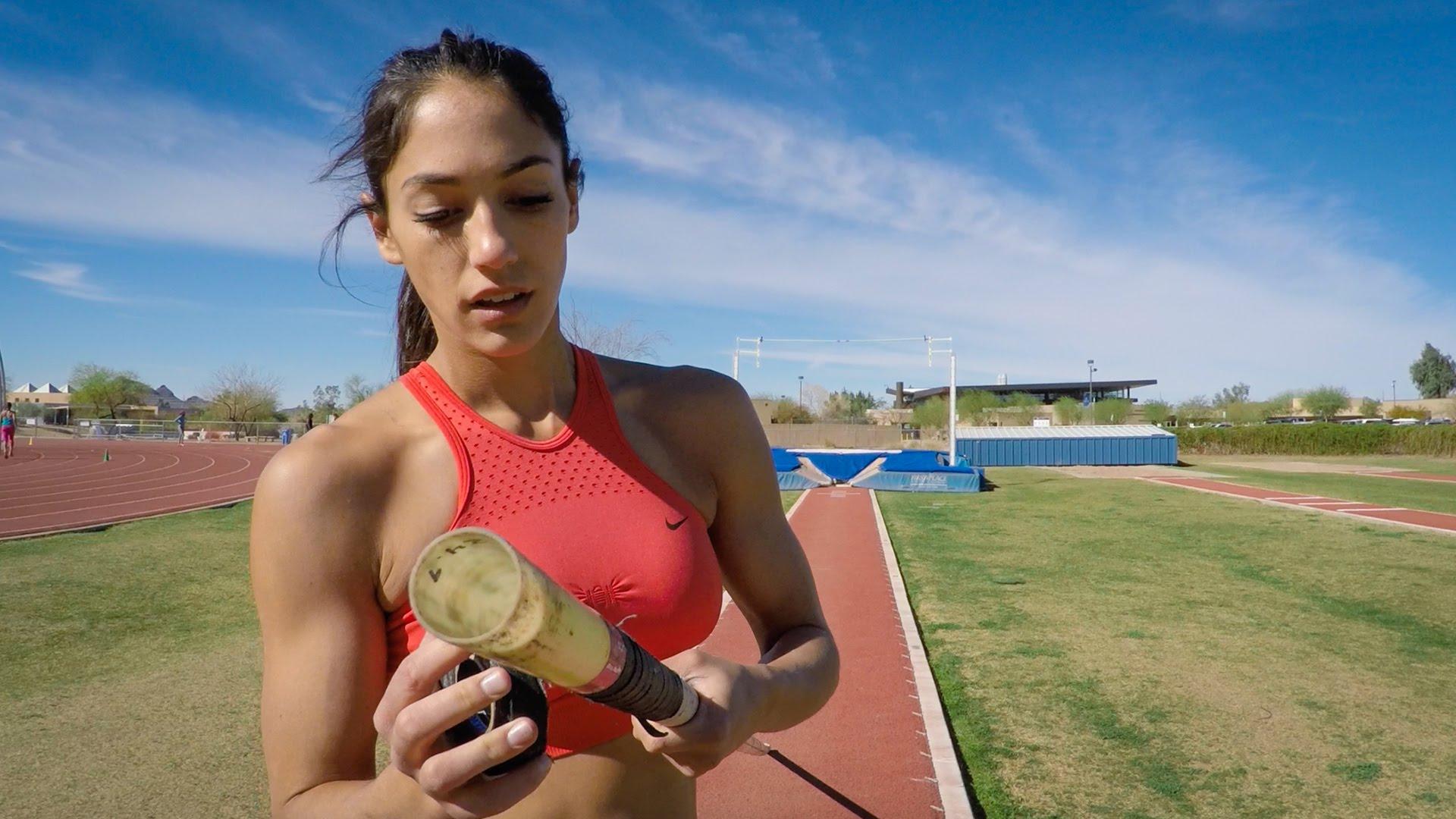 Growing together
Since it has been officially announced that the pair are together, they have had quite the media attention, and have regularly been photographed together hand in hand. The pair have been snapped on vacation together and enjoying celebrations, such as 4th July! The couple keeps the world updated on their lives through social media and often post envious photos of their adventures. We wish them the best of luck as they appear to be made for each other!
Perfect cheerleader
Aside from leading a life most of us can only dream of, Stokke and Fowler also take their support of each other seriously. Stokke has been photographed accompanying the golfer to all his big tournaments, including the latest U.S. open, and appears to be joining in the celebrations too! With your partner also being your number one fan, is there any more this couple can ask of each other? We don't think so… And we're not jealous much at all.
Possible distraction?
Fowler's coach has been reported to tell the golfer that he needs to make a decision as to whether he wants to be a professional golfer, or if he wants to be famous on social media! With his focus looking as though it could be about to slip, does this sound like the end for the pair? Well, it doesn't seem so as Fowler's career is going from strength to strength and his new girlfriend is right by his side! It looks as though Fowler can be a social media god and a serious golfer at the same time.
Perfect competition
Stokke is set to bring Fowler some heavy competition as she discovers her brand new talent. Having posted many photos of her helping her new boyfriend to her own Instagram, Stokke has also been posting pictures of her playing golf too! Putting down the pole and picking up the club gives this athlete even more sporting abilities to show off, as well as providing Fowler the perfect partner to practice with! Perhaps we will see Stokke trying out a new career sometime soon?
Then to now
Stokke has come a long way since all that uncalled-for attention over a decade ago. Living through an experience that would unravel a lot of us, Allison Stokke has used the opportunity to try and give the sport the exposure and recognition it needs to get more people interested in pole vaulting, rather than cashing in on her fame! With new love continuing to blossom, it appears as though Stokke has a lot to look forward to still, too.
Alter-ego
Stokke recently spoke out about how she feels today about the viral picture that changed her life. "I feel like me and that picture are two different people. I feel it has taken on a life of its own. It's like that picture is my alter-ego and sometimes I feel like I use it for a positive force, and sometimes I just choose to leave it out there and not engage with it."
Not giving up
Stokke continues to move forward and make strides in her athletic ability, despite everything she has been through. She is still vaulting, and is now training with a new coach in Phoenix, where she says she is working with the best of the best. Although she didn't quite make the cut for the USA Track and Field Olympic Trials, she is still working hard towards her goal of one day making the Olympic team and refuses to give up.
Not the only one
Before Stokke broke the internet with her pole-vaulting photos, only true fans of the sport could name a professional pole vaulter. However, since Stokke, more ladies of the sport have been going viral. Last year, a list titled "The Hottest Women Pole Vaulters of the 2016 Rio Olympics" was created. The list focused on pole vaulters like Sandi Morris from the USA team and Eliza McCartney from the New Zealand team, along with several more.
Giving some credit
While the list's title may seem to go against what Stokke is fighting for, making a name for pole vaulters because of their athletic ability and not their good looks, it actually does do some good for the women. It calls the female athletes "fearless" and "impossibly graceful as they fly through the air." The article goes on to talk about how dangerous the sport really is and how although it was initially dominated by men, it is now being taken over by powerful women.
For the wrong reasons
Although things have somewhat calmed down for the pole-vaulting sensation, Stokke admitted that she still receives letters in her home mailbox. While some messages are encouraging and kind, others are not so much. Stokke said that even when she was vaulting at California, her university had to take down her photo from the website because fans were constantly asking for a copy, signed by Stokke. It was then that she realized she had become somewhat of a celebrity, but not for the reasons she wanted.
Blow over
Besides her brief modeling career, Stokke has attempted to stay out of the limelight, and has built somewhat of a shield around herself. While some athletes would have jumped at the fame, Stokke decided to stay true to herself and refused to become some superstar because of her looks. In the meantime, she is laying low and waiting for everyone to forget about her so she can move on with her life with privacy.
Not the best
Stokke feels like all of the fame she received was actually quite unfair, considering there are many other pole vaulters who are better than she is. She said, "At that point, I wasn't the best vaulter in the country, so why should I be getting that much attention?" She didn't understand why the world was going crazy over her, it isn't like she is the only beautiful and talented pole vaulter around.
No regrets
Years later, Stokke even admits that she turned down many offers because she didn't think she was worthy of them. She had offers to be the cover of fashion and sports magazines and also a chance to appear on various talk shows like The Today Show. Does she regret not taking the jobs and seizing the moment? It doesn't seem like it, as she says that all anyone was interested in at the time was her looks, and she didn't want that kind of fame anyways.
Life lesson
This whole ride has been especially difficult on Stokke's parents. Can you imagine your 17-year-old daughter's looks being the topic of discussion all over the internet? Her mother recently spoke about her daughter's life lesson in an interview, "I think I saw her grow up faster. She saw how the world can be, saw how some people can be really cruel, some people can be great. I think she realized, 'I can't be so concerned about what everyone else thinks; I have to pursue my career and my dream and my sport.'"
Emotional experience
Stokke claims that the whole situation still affects her emotionally. She even spoke about an essay she wrote once in college, "At Cal, I wrote about it once for a Sociology class. We were supposed to write about some deep thing that affected you emotionally, and then you had the option to share, or not share and delete it. And I didn't share it. I deleted it. I wish I still had that somewhere, because I think it would be very different now."
Breaks silence
When 'that' photo circulated the internet back in 2008, Allison Stokke didn't quite know how to handle her sudden fame. "Was I flattered? In some ways, sure. But I was overwhelmed, too." The pole vaulter received so much unwanted attention thanks to that one photo and its caption, when she was just 18 years old. Allison told interviewers, "I've never seen this viral thing happen to a male athlete who isn't already the best at what they do," and she's right. Allison Stokke wasn't the best pole vaulter in the world at the time, yet being an attractive woman meant everyone was suddenly fascinated by the athlete.
Hole in one
Even though Allison never managed to qualify for the Olympics, she still participates in pole vaulting competitions. When she's not doing that, you'll typically find Allison modelling for international sports brands, like Nike. Allison can also be found frequently hanging out with her now-husband, Rickie Fowler. Yes, you read that correctly. The two tied the knot in 2019 and could not be happier. From one athlete to another, it's safe to safe that Allison putted a hole in one.