Ben Affleck started off his career at a young age and has since adorned the tabloid headlines for his acting roles, his celebrity friends (we're looking at you, Matt Damon) and his charity work. However, there's also another side to Affleck. Since his breakthrough as a notable actor, Affleck has found himself caught up in various scandals, secrets, and rumors. Of course, this isn't unusual for a celebrity (they really could eat a carrot and it would end up as front page news), but Affleck has appeared in magazines more times that we've had hot dinners.
---
---
Think you know all there is to know about Ben Affleck? Well, then you're in for a treat.
Oh Batman. There's nothing we love more than a big, giant human-bat flying around Gotham City saving the day (really, there isn't). Over the course of its 74-year movie run, the Batman has been played by numerous actors. Lewis G. Watson donned his cape in 1943 and was taken over by Robert Lowery in 1949. After that, Adam West earned his bat wings, before Michael Keaton was enlisted by Tim Burton to play the elusive man in the mask. Then we had Val Kilmer, George Clooney (a personal favorite), Christian Bale (and that voice) and Will Arnett. Last but not least, we have our current Batman… Ben Affleck.
Ben Affleck isn't just known for his skills in the bat cave. Over the course of his career, Ben Affleck has shown his skills as an actor, screenwriter, and director – skills which have won him a three Golden Globes, two Academy Awards, two Screen Actors Guild Awards. And if that wasn't enough, he's also won two BAFTA Awards. Basically, he is a bit of a legend.
Check out the ultimate story that follows his career, his trials, his tribulations, his stints in rehab and his (pretty impressive) relationships…
Early years
Ben Affleck was born Benjamin Geza Affleck-Boldt (what a name) on August 15, 1972. Although Affleck was born in California, the Affleck family moved from California to Massachusetts when Ben was just three years old. While they were in Massachusetts, his mother and father gave birth to his brother and fellow famous actor, Casey Affleck. During his early years Affleck's mother worked as a teacher, but his father would often change his profession sporadically – and worked as an electrician, a janitor, an actor and more.
Father
Although Ben Affleck and his family lived a happy and healthy life, they were not without their problems. Ben spent the majority of his childhood watching his father devolve even further into alcoholism. Timothy Byers Affleck would drink excessively, all day every day, while his children would watch from afar. This downward spiral- eventually resulted in his divorce from his wife and a stint in rehab. Because of this, the Affleck brothers went to live with their mother.
The arts
From a young age, Ben Affleck was surrounded by people with a love for the arts – so it's no surprise that Affleck soon developed a love himself. He would often take trips to the theater with his brother and mother, and their mom even persuaded them to start making their own films. How cool is that?! As soon as the boys were able to walk and talk, their mom took them to auditions, and they were quickly snapped up to appear in numerous commercials.
Acting professionally
Ben soon became the center of attention and was picked up by talent scouts to play various roles. In fact, Ben began to act professionally at the tender age of 7 – which is about the same time we started to eat mud pies, so we had a slightly different childhood. As he began to make a living as a child star, his mother made sure that he put his wages in a trust fund, so that he could save the money for a rainy day, or for when he wanted to continue his studies to become a teacher (which he didn't want to do).
A taste for the limelight
After his stint as a child star, Ben got a taste for the limelight and knew that he wanted to pursue a career in acting. He continued his passion at high school and made sure he took part in every single theater production his high school put on (awww, he was a theater geek). During his few years at Cambridge Rindge and Latin High School, Ben Affleck struck up a close friendship with fellow actor, Matt Damon (yep, you must have heard of him).
Ben and Matt
There are certain things that just go together; there's peanut butter & jelly, there's Ross & Rachel, and there's Ben Affleck and Matt Damon. During their high school years, the pair realized that they both wanted the same thing – to be a successful actor. They helped each other with lines, they practiced together, and they auditioned together. Affleck and Damon even created a joint bank account together, so they could help each other buy train and plane tickets to go to their auditions. I mean, that's love.
Post high school
When most of us graduate high school we go to college or we get a part-time job to tide us over until we actually know what we want to do with our lives. But not Ben Affleck. Affleck knew what he had to do, so he moved to New York to pursue his acting career once and for all. During his early years, Affleck managed to get small, mostly uncredited parts on shows like Buffy the Vampire Slayer, Against the Grain, and Body to Die For: The Aaron Henry Story.
Good Will Hunting
In 1992, Ben Affleck and Matt Damon were both struggling to find work, and their careers were slow to take off. To combat their boredom, the pair decided to write their own script – and they wrote one heck of a script. Over the course of their writing sessions, the pair wrote the script for the hugely popular movie Good Will Hunting. And we all know how that turned out. You know what they say if the script doesn't come to you, write it yourself (okay, they don't say that; but they could).
Creative control
Although they wrote the script in 1992, the movie was actually released five years later. This is because Damon and Affleck struggled to come to an agreement with the Castlerock who ended up buying the script for $600,000. The production company refused to give the duo the creative control they wanted, so they enlisted the help of one of their pals, Kevin Smith. Smith managed to sell the script on to Miramax, which gave the boys the freedom to do whatever they wanted.
Armageddon
After the success of Good Will Hunting, Ben Affleck was able to establish himself as a talented actor (and the money helped, too). From this, Affleck managed to bag himself one of the best roles in history – Armageddon. As soon as Armageddon was released, casting directors from across the globe were itching for his phone number. Affleck subsequently achieved highly prolific roles, including Shakespeare in Love, Pearl Harbor, Argo, Gone Girl, and Batman. He's done well for himself.
Ladies man
When you're a leading man in Hollywood, it's not long before you hook up with a few leading ladies. Throughout his career Ben Affleck has been linked to some of the most famous celebs in the business, including Gwyneth Paltrow, Jennifer Lopez, Jennifer Garner Jaime King, and Salma Hayek. And to be honest, we're don't know who's luckier… is it Ben Affleck, or is it the women he's been linked to? We're not sure. We're gonna go for both.
Gwyneth Paltrow
One of Ben Affleck's most famous relationships was with none other than the Hollywood legend herself, Gwyneth Paltrow (we love you, Gwyneth). The couple met when they co-starred in Shakespeare in Love and ignited a love of their own, and they continued to date for three years. However, the pair soon ended things – leaving Gwyneth completely heartbroken. According to her later reports, Ben Affleck was not in the headspace to have a girlfriend because of his bad habits (more on that later).
Affleck and his wife
It's no secret that Ben Affleck has had women falling at his feet during the course of his career, and Affleck (sometimes) enticed them. However, he did manage to remain faithful to one woman for eleven years – the lovely Jennifer Garner. Affleck and Garner first spent time together on the sets of Pearl Harbor and Daredevil between 2001 and 2003 but only really started dating officially in 2004. A year later, they tied the knot in a beautiful and private ceremony abroad.
Their kids
Over the course of their marriage, Ben Affleck and Jennifer Garner welcomed three beautiful children into the world – Violet Anne, Seraphina Rose Elizabeth and Samuel Garner. However, after a rocky and tumultuous marriage, Jennifer Garner filed for divorce in 2017. The two parties both appealed for joint custody of their children. When speaking about their split, Affleck maintains that the press and paparazzi are to blame for the failure of his marriage. However, fans believe his troubled ways may have contributed.
A struggle with alcohol
Throughout his early years, Affleck watched his father struggle with alcoholism. However, as Ben got older, he began to experience his own problems with drink. For the most part, Affleck tried to go cold turkey and steer clear of alcohol, but the pull was too much. In 2001, he admitted himself into a rehab clinic – as he had seen the destructive effects of alcohol on his own family. He came out of the rehab clinic feeling refreshed, full of life, and healthy.
A setback
During his marriage to Jennifer Garner, Ben Affleck seemed to control his urge and kept away from alcohol – or so it seemed. After it was revealed the two had separated, in March 2017, Affleck re-entered a rehab center and enlisted the help of a sobriety coach to battle his alcohol addiction once and for all. He posted his admittance on Facebook, where he wrote about his kids, and how he wanted to be the best father he could possibly be. You can do it, Ben!
Professional gambler
As well as being one of the best actors in the business, Ben Affleck also has another talent that he's kept pretty hidden from the public eye (probably because they'll jump to conclusions). Through most of his adult life, Ben has had a passion for gambling. In fact, in 2004, Affleck took part in the California State Poker Championship – and won it! However, his gambling skills haven't impressed everyone, and one casino has asked that he refrain from playing their tables because he is just that good.
Denying reports
Because of his very public battle with alcohol addiction, many people have worried about Ben Affleck's association with gambling – as often addicts can flit to another addiction when their needs aren't met. Despite the constant reports that Ben Affleck has become addicted to gambling, he has repeatedly denied these claims. Instead, he just likes to play the odd game or two when he has free time. And he's pretty good at it, so why not show off your talents?
Finding your roots
We love knowing everything we possibly can about our favorite celebs, which is why we love the popular TV show, Finding Your Roots. In 2015, Ben Affleck was set to appear on the show. During filming, Affleck found that his family was related to former slave owners who had been extremely powerful and violent towards black people. Naturally, Affleck was saddened by this discovery – but there's more to it than that. Before the episode was aired, Ben Affleck tried to have his dark history edited out.
The Wikileaks scandal
However, Ben Affleck picked the wrong time to try and edit out this information. None of the previous celebrities had asked to do this, so show bosses were confused about what they should do – and sent numerous emails between themselves. Unfortunately, this was during the time of the infamous Wikileaks scandals, where emails were hacked and posted for everyone to see; including the emails regarding Affleck, his family history, and his request to kill the episode. Affleck was found out.
The nanny scandal
When it comes to the rich and famous, it's almost frowned upon when celebrities DON'T hire a nanny (what, you mean you CAN look after your own children?!) So of course, while Ben Affleck and Jennifer Garner continued their lives as busy actors and parents, they hired a nanny to help them out a little. This nanny was called Christine Ouzanian. You're probably wondering, 'where have I heard this name before?' It's likely because her name was plastered all across the tabloids in 2015.
Deny, deny, deny
Christine's name became the talk of the town after rumors circulated of her alleged affair with Ben Affleck. According to these rumors, Ben and Jennifer were still together at this point, and the two had begun a sordid affair after the couple paid her to look after their children. Although there are no reports that this affair 100% happened, Ben had been a little too quick to deny the accusations, and had even footed the bill for Christine to 'lay low' while the rumors circulated. I mean, innocent until proven guilty but that is a little suspicious…
What Jen had to say
Jennifer Garner also denied the affair, especially when people questioned the event and the breakdown of their marriage. However, Jen had consistently denied that the nanny scandal contributed to their divorce. In fact, she maintains that the couple had been separated for a few months before news of the affair adorned the headlines. Despite their slightly awkward past, Ben Affleck and Jennifer Garner are now successfully co-parenting and remain civil to each other. That's what we like to hear.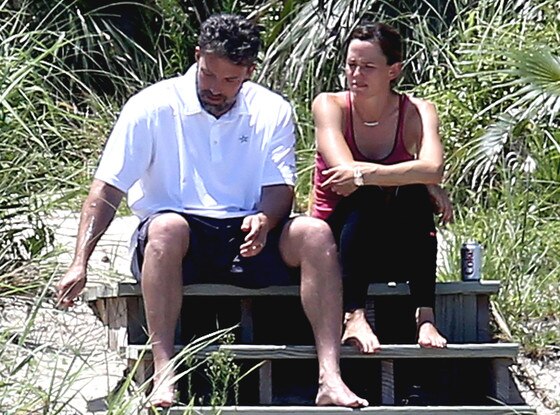 The other Affleck
When it comes to the Affleck brothers, Ben has always been the most famous (sorry, Casey); which has left Casey with the unofficial nickname as the 'other' Affleck. However, that doesn't mean he's any less prone to scandal. In 2010, two women who worked on the set of I'm Still Here with Casey accused him of sexual harassment. The lawsuits were ultimately settled out of court for undisclosed sums, but his reputation has since been scorched by these horrible rumors.
Ben and Casey
It's no secret that both of the Affleck brothers have suffered some pretty embarrassing tumbles from their pedestals. But no matter the scandal, the rehab stint, the rumor or the movie role, the brothers have always been there for each other. The two have an incredibly close bond with each other and have got each other through the bad times, with a little dash of brotherly banter thrown into the mix as well. They really are #brothergoals.
Ben as Batman
One of the most impressive roles to add to Ben Affleck's resume is his portrayal of Batman. I mean, who doesn't want to play Batman? Affleck first took the role in 2016, and appeared in Batman v Superman: Dawn of Justice, and was greeted with mixed reviews. Many loved his performance, others couldn't understand DC's decision to cast the likes of Affleck. Nevertheless, he has continued to star in the DC Universe. He has appeared in a cameo in Suicide Squad, and will soon appear in the upcoming Justice League movie.
In the director's chair
As well as taking on the role of the man with wings (Batman), Ben Affleck has also delved into the world of directing in the past few years. He has directed the hugely popular Argo movie, as well as Gone Baby Gone. However, most of his directorial work is currently underway, so he's a pretty busy man. Affleck was supposed to direct the upcoming Batman movie, The Batman, but has stepped down as director as the role is incredibly demanding as an actor.
The charity man
Despite his fairly raucous reputation in Hollywood, Ben Affleck has managed to prove that he is also a philanthropic man. In 2010, Ben and his business partner, Whitney Williams decided to help out those who were suffering in the Eastern Congo. Affleck had previously visited the Eastern Congo region and saw the poverty-stricken landscape for himself. So, the pair set up the Eastern Congo Initiative non-profit charity to raise awareness for the region, and also actively help them out.
Feeding America
Alongside his work in the Eastern Congo region, Ben Affleck is also an avid supporter and member of the Feeding America initiative. This charity supports the creation and maintenance of hundreds of food banks across the country. He regularly makes appearances at these food banks and volunteers his service for those in need, and writes articles for major publications about the charity and its work. He has been a member since the mid 00s and is still an active member today. Go, Ben!
Upcoming films
We have to admit; we're feeling a little saddened by the lack of Ben Affleck in our lives at the moment. Luckily, Affleck has signed up to some of the best new movies of the next few years. These include Justice League (2017), Witness for the Prosecution (2019), The Batman, and a currently untitled Accountant sequel. We just hope he can keep his name in the papers for his talents, rather than his scandals and misdemeanors. We have faith.