Whether you are happily coupled up or enjoying the single life, watching other people try and find romance can be a great pastime. The awkward first kiss, the "ground, please swallow me up" silences, and the constant questioning by friends and family are enough to make anyone embarrassed – so it's even better when it's broadcast on national television for the world to see! Dating shows are in their plenty, with the likes of 'Beauty and the Geek,' 'Blind Date,' and 'A Double Shot at Love' having all put their own spin on the dating life over the years, there is always one show that stands out above all the rest.
---
---
Making its grand debut in March 2002, 'The Bachelor' has run successfully for twenty-one complete seasons, and is still continuing to date! Host Chris Harrison is able to keep the audience on its toes, keeping us all informed of the constant drama, love triangles, or octagons, or…what is a twenty-six sided shape? However many people are on the show at one time, we're able to view all the events unfold from the comfort of our own home taking people watching to a whole new level! Taking the contestants around the world means love can be found in international waters for some of these mostly adorable bachelors. However, none of them are too afraid to cause a scene on their quest for love.
With several successful spin-offs of the show, there have been plenty of couples to keep us entertained over the years. But whatever happened to them after the cameras stopped rolling? Did they manage to keep the eternal flame of love burning, or was it more a dwindling flicker by the finale? There seems to be some running themes throughout the seasons, but if one thing is for sure – there is plenty of new events kicking off with each new show! So grab a drink and be prepared for some unexpected outcomes for our lovers…

Alex Michel – then
Alex was the first bachelor to enter the house way back in 2002 when the show was first aired. The management consultant was lovable at first, but soon showed his immature and sometimes offensive personality as he kissed his way around the girls!
Alex Michel – now
Getting back to business, Alex has since become a spokesperson for Princess Cruises and Match.com (not that he seems to be having luck with his own dating life!). Alex is one for privacy though, appearing to have no social media and fading from public view!
Amanda Marsh – then
Amanda and Alex started dating after she won Alex's heart – not enough for a ring though! The two broke up a year later amidst rumors he still had feelings for the season's runner-up, perhaps she knows where Alex has disappeared off to?
Amanda Marsh – now
Amanda is now happily married to Jay Caldwell, her childhood friend. The two have had one daughter together named Chloe! It seems Amanda was able to find love, just elsewhere instead. She is said to remain in contact with Alex a few times a year.
Trista Rehn – then
Trista was a former cheerleader working as a pediatric physiotherapist when she applied for the show initially. Trista lost out to Amanda in the fight for Alex's love, but after defeating the other twenty-three girls, this would lead on to her stint on 'The Bachelorette.'
Trista Rehn – now
Trista is now happily married to her own bachelor from her own show, firefighter Ryan Sutter. The pair have two wonderful children together, too. Aww! She has had many TV appearances over the years and is working on her home decor and jewelry collection.
Season 2: Aaron Buerge – then
The 28-year old banker was star bachelor of season 2 of our favorite dating show. Aaron chose Helene as his partner and proposed in the finale of the show. The couple, however, broke up in the following weeks after just three short months together. Ouch!
Aaron Buerge – now
Currently, Aaron is successfully running a family bank. He has since gone on to marry wife Angye McIntosh, an insurance agent, in 2008. The couple has also welcomed their daughter, Aven, into the world. The family live in Missouri and have found their happy ending.
Helene Eksterowicz – then
Helene was working as a school psychologist in 2002 when she appeared on the show. Helene was chosen by Aaron and got engaged in the finale, and was the first contestant to ever receive and accept a proposal on the show!
Helene Eksterowicz – now
Helene is now happily married to her husband Andrew Goodman, a technology consultant. The two wed in 2013, and so far have had one child together. The pair seem to be enjoying their lives together according to her social media pages.
Brooke Smith – then
Brooke was in her senior year at University and was just 21-years old when she was the runner-up in season two. After the show wrapped up, it was reported that Brooke was devastated not to have been chosen by the bachelor….
Brooke Smith – now
Now happily married to husband Scott, Brooke has since gone on to become a news anchor of a daytime show in Alabama! The couple has welcomed one daughter, named Gracie, to join their little family too. Everything happens for a reason, Brooke.
Season 3: Andrew Firestone – then
Born into the Firestone company, Andrew was 28-years old when he was bachelor number three on the show. He proposed to his chosen winner Jen Shefft, but the two split up not long after the television airing of the finale.
Andrew Firestone – now
Landing on his feet as a happy family-man, Andrew is now married to Ivana Bozilovic who works as a model and actress. Andrew has since made various television appearances too. Social media pictures of the couple can be seen showing off their adorable three children!
Jen Schefft – then
Jen was the chosen suitor of Andrew in the third season of the show. The two got engaged during the finale, and she moved to California to live alongside Andrew. After being a fan favorite, wedding plans were called off in less than a year. Boo!
Jen Schefft – Now
Jen went on to appear on the female version of the show, The Bachelorette but rejected her new suitor after the show. She later married Joe Waterman in 2009, who she now lives happily ever after with as a full-time mom to their two daughters.
Kirsten Buschbacher – then
Kirsten was 23 when she appeared on the show and was working as a merchandiser. Living in Florida, she was rejected by Andrew in the fight for his love. Kirsten did admit, though, that she thought the other two were more suited.
Kirsten Buschbacher – now
The last thing we heard, Kristen has made a move to the Big Apple in search of a career on the stage! Kirsten is a hard one to track down, but we hope that whatever she has decided to do she is happy, and hopefully found some love.
Season 4: Bob Guiney – then
Bob landed his role as the bachelor after being booted off The Bachelorette earlier in the year. This dark-haired charmer chose Estelle to hand his ring to, but she chose a promise ring instead to declare they would date not get engaged – ouch!
Bob Guiney – now
Bob has been married, divorced, and remarried since the show! He now works as a host for various shows and is a member of a band. Hopefully, Bob and new wife Jessica can find their happy ending.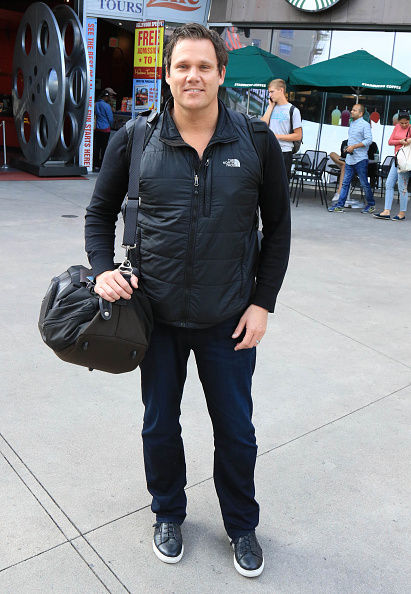 Estella Gardinier – Then
Estella was working as a sales representative during her time on the show. She asked Bob to buy her a promise ring over an engagement ring as she only wanted to date the bachelor, and ended up calling off their relationship just weeks after the show wrapped up. Awkwaaaard.
Estella Gardinier – now
It appears now as though Estella may still be single after her swift public relationship with Steve Holy back in 2004. Teaching pilates and yoga, and being a full-time fitness trainer, seems like enough to keep Estella busy nowadays.
Kelly Jo Kuharski – then
On the show, Kelly was not welcomed by Bob's mother after she was taken by the bachelor to meet his family. That's got to be pretty upsetting. She reported as being heartbroken after the finale that saw her leaving engagement-less.
Kelly Jo Kuharski – now
Now known as a Higgins, Kelly is happily married to her new hockey-playing husband, Matthew Higgins. The couple have two daughters together, and Kelly works from home for a skincare company so she can look after the two girls.
Season 5: Jesse Palmer – then
Jesse was just 26 when he appeared as the show's fifth bachelor. Originally from Canada, Jesse was a professional quarterback at the time and the show's first bachelor that wasn't American. He chose a fellow Jess when he left with Jessica Bowlin.
Jesse Palmer – now
Working in both America and Canada, Jesse now uses his knowledge for his career, after becoming a sports commentator and commentating for college football. Although he is still single, we're sure it won't be long before he's snapped up!
Jessica Bowlin – then
Jessica was the lucky winner of Jesse's heart (confusing enough?), but the dream team was apparently not meant to last! The couple continued to date after there was no engagement but broke up shortly after leaving the show.
Now
Jessica has now married her other half, Omar Rawi, and seems to be enjoying her new family life. Having earned her law degree since the show, the couple has since welcomed two children into the world. A happy ending for one Jess at least.
Tara Huckeby – then
It seemed as though this 23-year old at the time had it written in the stars as she and Jesse fell for each other on the show. Jesse's dad even told him to chose Tara, but unfortunately for her, she was not the one in his heart after all.
Tara Huckeby – now
Following on from her dramatic exit from the show that saw Tara cause a scene as she left, she has done everything she can to stay out of the limelight. It appears as though life in the spotlight may not have been the one for Tara!
Season 6: Byron Velvick – then
Byron was 40-years old and a professional fisherman when he made his appearance on the show and went on to chose Mary Delgado as his partner. The two continued to date after the show, but it wouldn't be a smooth ride for the pair…
Now
The couple split in 2009 after five years together and gave Byron a chance to continue with his love of fishing. This has led to appearances on various fishing television shows, and a new marriage to wife Belinda Juarez.
Mary Delgado – then
Mary's proposal won the hearts of the nation. As she is originally from Cuba, Byron proposed in Spanish so that her parents would be able to understand – how adorable! The relationship lasted five years before the public split.
Mary Delgado – now
After having several stints in and out of prison, including one for punching her former bachelor, Mary found herself walking down the aisle in 2015 with James Kordomenos. Life has been rocky for Mary following the show, but she may have found her happy ever after at last.
Tanya Michel – then
Tanya left her teaching career before entering onto the show in the hope that she may be able to find true love during her time there. However, this wasn't the case for Tanya as she lost out on a fiance to Mary.
Tanya Michel – now
Tanya had the chance at a new career after her dramatic quitting of her previous job. She has now chosen to become a personal trainer, embarking on her fitness career. She also appears to have recently been uploading short fitness videos to Youtube!
Season 7: Charlie O'Connell – then
This actor walked in as bachelor number seven to the show. After Charlie's initial round of body shots that commenced with the potential girls on the show, he was set to cause a stir with his partying ways!
Charlie O'Connell – now
After the on again off again relationship between Charlie and winner Sarah Brice, he has moved on to date Anna Sophia Berglund, a Playboy model. Charlie has continued to act over the years and is now sober from alcohol. Maybe the body shots did it.
Sarah Brice – then
This young blonde was snapped up by bachelor Charlie, but the season didn't end with a proposal. The couple continued to date after the show for the next five or so years but eventually split due to Charlie's issues with alcohol.
Sara Brice – now
Sarah is now happily married to Brandt Calver. The couple have had three children together, and Sarah is currently working for a company that specializes in cosmetic procedures. Her three sons and a new career seem to give Sarah a lot to keep her busy.
Krisily Kennedy – then
Before the show, Krisily found herself as a co-host for a show that was aired before and after the Boston Red Socks would play. Landing herself on the show wouldn't be such a dream for Krisily though as she was beaten by Sarah.
Krisily Kennedy – now
Krisily still has some hosting work to keep her occupied but is focusing on her writing career. In her hopes of becoming a published author, Krisily is currently writing about her life story to advise young women on how to deal with life.
Season 8: Travis Lane Stork – then
Travis was working as a resident in a local hospital at the time of the show. Season 8 didn't see Travis become a doctor of love though, as he chose Sarah Stone to leave with, but the two split up a week after the show aired. That's quick, even for The Bachelor.
Travis Lane Stork – now
Travis has since gone on to host The Doctors talk show using his medical knowledge to his advantage! He was also briefly married to Charlotte Brown, a pediatrician, but the two divorced in 2015 meaning Travis is currently single – any takers?
Sarah Stone – then
Sarah was working as a kindergarten teacher when she stole the heart of Dr. Travis in the eighth season of the show. It would leave an awkward split though as the two lived along the same street in real life…oops!
Sarah Stone – now
Sarah went on to become a real estate agent since leaving the show. She also found her Prince Charming when she married to Brock Smith, and the couple have welcomed three daughters into the world. This happy family spread the joy often on Sarah's social media!
Moana Dixon – then
This dark haired beauty was working as a distribution manager when she applied for her chance to win the heart of the Dr. himself. Travis and Moana are reported to have fallen in love on the show, but this just wasn't enough for the pair, as she wasn't chosen.
Moana Dixon – now
Moana has finally found her happy ending as she is now married. As well as having a doting husband, she has opened a design studio that she co-owns with her other half. She spends her days designing for her business.
Season 9: Lorenzo Borghese – then
Lorenzo was 34-years old and working in the cosmetics industry when he appeared as the ninth bachelor. This Italian stallion brought to television one of the more uneventful seasons, with it being reported the producers would attempt to create drama!
Lorenzo Borghese – now
Lorenzo has moved on to spend his time fighting for animal rights. It isn't clear as to whether he is in a relationship, but be sure to follow him online if you want plenty of pictures of Lorenzo with lovable puppies… Yes, please!
Jennifer Wilson – then
Yet another teacher joined the cast and won over Lorenzo, as Jennifer appeared in season nine. They didn't get engaged, and they both split after Jennifer was rumored to be cheating on the bachelor with one of her coworkers – detention for you, Jennifer!
Jennifer Wilson – now
Jennifer has since remained faithful (as far as we know!) and married Lee Gerschutz who works as an accountant. The ex-teacher is now employed by Juice Plus as a wellness coach but has tried to remain off social media since the show.
Sadie Murray – then
Sadie joined the bachelor team when she was working as a publicist. The blonde bombshell came across as a sweet and innocent young woman, who was very intelligent. She reportedly had a shot with Lorenzo after the show, but it didn't work out.
Sadie Murray – now
Sadie has gone on to have an incredible online and on-air career within fashion, gaining her an impressive following over the years! She has built an incredible name for herself and has plenty to keep herself busy with. Go, Sadie!
Season 10: Andrew Baldwin – then
This serious bachelor brought some uniform to Season 10, as Andrew was a Navy Seal at the time. Andrew was able to bring in the hunk factor but came across as someone that didn't enjoy having fun or letting loose.
Andrew Baldwin – now
Andrew is currently single, so ladies, there's an opening! He was briefly involved in a relationship with Dancing With the Stars dancer Karina Smirnoff, but in recent times he appears to have remained alone…Although, we're sure this dry spell won't last long.
Tessa Horst – then
Tessa was a controversial contestant on the show due to her constant questioning of whether she wanted to be there or not. She ended up winning, though, and the two engaged. The pair continued to date, even after calling off the engagement, but eventually broke up.
Tessa Horst – now
Tessa was engaged again in 2013 and went on to marry her fiance Tom Pickard. The couple have had a baby boy together, and Tessa has found time for work after she founded a company to help parents of children that have spent time in the hospital.
Bevin Nicole Powers – then
Coming in second place to rival Tessa, Bevin was working as a medical researcher when she was in season ten. Bevin reported that during her time in the finale, she had a gut feeling that she was going to be the woman that got rejected… She was right!
Bevin Nicole Powers – now
Since her departure from the show, Bevin has said she spoke to Andrew to clear the air, but she hadn't let it affect her in the long run. After the final, Bevin has made a significant effort in staying out of the public eye.
Season 11: Brad Womack – then
Brad's first (yes, there is more to come!) appearance went down in the show's history as he chose neither of the girls to propose to… The bar owner was really unpopular after the show, but he got a chance to redeem himself in season fifteen.
Brad Womack – now
Brad couldn't keep away from the girls after he previously dated a former contestant from season seventeen in 2013! Since then he has remained single, and instead, puts his time into his many bars he now owns alongside his brothers.
DeAnna Pappas – then
DeAnna was unfortunately found herself as one of the women that were rejected by the bachelor. In a twist though, after the show was aired Brad came out and said he had intended to choose DeAnna in the finale – oo-er!
DeAnna Pappas – now
DeAnna went on to appear on the female version of the show but broke off her engagement. In 2011, DeAnna married her now husband Stephen Stagliano proving she could indeed find love. The couple currently have two children together.
Jenni Croft – then
Jenni was the other half of the pair that got rejected in the show's incredible twist. Jenni was a cheerleader at the time, cheering for a basketball team in Phoenix. Her exit from the show led her back to her ex-boyfriend after stepping off the plane home.
Jenni Croft – now
Jenni is now happily married to a dentist named John Badolato, and the pair have two sons already, while they are currently expecting their third. She works as a distributor for a supplement company, and Jenni has proved how she never needed Brad – his loss!
Season 12: Matt Grant – then
Taking things to international waters, Matt's London charm bagged him the title of the first bachelor outside North America. His British appeal was used to land him a successful proposal to Shayne Lamas, but the charm would end there as the pair split later the same year.
Matt Grant – now
Having dated on and off for a while, Matt finds himself still living in London but with some company this time. Rebecca Moring said yes after she and Matt met at a local bar, and the pair are now happily engaged!
Shayne Lamas – then
Shayne was one to be hitting the headlines during her time on the show. She was accused of caring more about trying to achieve fame than actually wanting to participate in the show – not a good look!
Shayne Lamas – now
Shayne has, unfortunately, had some minor troubles with the law, but has since set herself straight. Astoundingly, she and husband Nik Richie knew each other for mere hours before getting hitched. They have gone on to have two children together, so must have done something right!
Chelsea Wanstrath – then
In a bid to win over the British stud, Chelsea entered season 12 of The Bachelor. She was working as a pharmaceutical rep and was the favorite of the two to win, even thinking she was the one that was going to win Matt's heart! Oh, how wrong we were…
Now
Chelsea keeps the world updated through her social media accounts, especially Instagram! Here she is often seen posting photos of her many outdoor adventures, with plenty of snaps to make anyone jealous. It doesn't appear as though Chelsea is dating right now.
Season 13: Jason Mesnick – then
Jason wanted to ensure he shocked the nation when he proposed to Melissa Rycroft, only to dump her at the reunion show and propose to his runner-up Molly Malaney on live television instead… That's one way to get ditched!
Jason Mesnick – now
Jason and Molly continued their relationship, seeing them get engaged in New Zealand. The couple were wed in 2010 and had their wedding broadcast on national TV. Together they have one child named Riley – the first Bachelor baby!
Melissa Rycroft – then
Melissa managed to take home the winning title during her time on the season but ended up being completely humiliated by her fiance live on TV. A former cheerleader, Melissa entered the show in the search for love but walked away finding anything but…
Melissa Rycroft  – now
Melissa didn't let the show put her off being in the limelight, as she has since married millionaire, Tye Strickland; a friend she has known for most of her life. They have had three beautiful children together, and have starred in their own reality TV show.
Molly Malaney – then
Originally from Wisconsin, Molly found herself in a bit of a conundrum after she was initially the runner-up to the show. The surprise proposal came as a shock to everyone but would see her and Jason get a chance for romance.
Molly Malaney – now
Jumping up to top spot saw Molly make the best decision of her life. Having two children together already, Molly can live out her life with husband Jason knowing how different things could have been. Molly works as a co-host on the radio when she's not at home.
Season 14: Jake Pavelka – then
Jake managed to keep the audience entertained and on their toes throughout season fourteen with his conflicting emotions, and indecisiveness! Jake eventually did make a decision though and went for the villain of the season as his new fiance…
Jake Pavelka – now
Jake has gone on to land some minor acting roles in small television shows over the years, but he couldn't get away from being the most hated bachelor. Jake and Vienna had many public arguments, were always making headlines, and caused considerable controversy!
Vienna Girardi – then
Vienna managed to clinch the title of one of the most hated contestants on the show! As well as falling out with almost every single one of the other girls, Vienna also called off the shocking engagement to Jake just months after the show.
Vienna Girardi – now
Vienna was previously involved in an extremely public relationship and was later engaged to Todd Allen, a racing driver. The two split up in 2016, though, and Vienna has recently had some devastating personal issues to deal with.
Tenley Molzahn – then
Tenley was described to be the daughter-in-law that Jake's parents would have loved after they met on the show. Hopefully, they weren't holding out their hopes too much that they would be welcoming her into the family…
Tenley Molzahn – now
Tenley has spent time on and off the television over the years, and there are rumors that she has managed to find a new man. She is now a qualified health coach and runs her own wellness website. Tenley also runs a successful Instagram page!
Season 15: Emily Maynard – Then
This 25-year old blonde was finally the one to grab Brad's heart, as he made his return to the show after his previous go four seasons earlier! This relationship was also meant to hit the rocks though, as the pair separated before the show even finished airing.
Emily Maynard – now
Now a mother to three incredible children, Emily has married Tyler Johnson, father of two of her sons. It appears as though Emily has finally been able to find her happy ending after many failed attempts before.
Chantal O'Brien – then
Chantal certainly knew how to get the main spotlight, but it's quite a wonder how she made it past the first episode… Chantal opened the season by slapping Brad across the face, to punish him for his first time on the show – what an entrance!
Chantal O'Brien – now
In 2011, for a special edition of Sports Illustrated, Chantal was pictured modeling a swimsuit. However, since then she has tried to keep out of the media and away from Hollywood; keeping her private life just that… Private.
Season 16: Ben Flajnik – then
The winemaker managed to shock and horrify the nation as he proposed to the season's new villain Courtney Robertson! Ben had previously been on the female show, but didn't win so was looking for his own chance at love instead.
Ben Flajnik – now
Ben and Courtney broke up, then got back together…then broke up again, before finally calling it quits! He is now rumored to be dating Stephanie Winn, a University graduate. Hopefully this time Ben can find himself a lasting partner.
Courtney Robertson – then
Courtney was undoubtedly one to rile up the crowd after her antics in season sixteen. She would talk about the girls behind their backs, went skinny dipping with Ben, forgot some clothing during a group date, and would try and take Ben from the others.
Courtney Robertson – now
Things have taken a turn for Courtney since the show. She has recently published a book about her time on air, explaining that she didn't intend on making pals. Courtney is now living in LA where she began a job in real estate, happily single!
Lindzi Cox – then
Lindzi will forever be remembered as the girl who rode up to Ben on a horse! Not having the most stand out personality of the bunch meant that her face was often lost amongst the crowd, but she made enough of an impression on Ben.
Lindzi Cox – now
In an attempt to stay out of the public eye, Lindzi has tried to keep her life a secret. She does, however, boast about some of her adventures on her Instagram account, where she can be seen to enjoy her horse riding, as well as plenty of traveling.
Season 17: Sean Lowe – then
Sean was a huge fan favorite after his time on the eighth season of the female show, and became an instant hit in his own season! The passing of love notes saw him on one knee to Catherine Giudici in the finale.
Sean Lowe – now
The insurance agent is the first (and so far only) bachelor to actually marry the woman he proposed to at the end of the show – let alone still be married to them! Sean has appeared on Dancing With the Stars and keeps the world regularly updated on his life.
Catherine Giudici – then
Catherine was another fan favorite while she was on the show. She managed to win over the whole nation, and more importantly Sean with her wit and charm. The two were last seen heading towards the sunset riding an elephant… Awww!
Catherine Giudici – now
Defying The Bachelor's odds, Catherine and Sean are still together to date! The pair married during a ceremony that was broadcast on TV, and have been able to enjoy the birth of their first son in 2016. Finally, someone made it!
Lindsay Yenter – then
Lindsay, working as a substitute teacher in North Carolina, had some fierce competition during her time on the show when trying to fight for Sean's undying love. She wasn't successful though and ended up leaving alone from the show.
Lindsay Yenter – now
Being able to find her happily ever after, Lindsay is now a proud wife, to Karl Swanson, and mother after the couple welcomed a son into the world. Now known as Lindsay Swanson, she has also made advances in her career and is a full-time teacher.
Season 18: Juan Pablo Galavis – then
Juan was set to be popular amongst the audience after his time on the female show but soon turned the nation against him as he made sexist and homophobic comments while season 18 of The Bachelor. This unsurprisingly did not go down well.
Juan Pablo Galavis – now
August 2017 would see Juan finally find a match for his rather controversial personality as he and Osmariel Villalobos, a former winner of Miss Earth Venezuela, were married. The two appear to still be happy in their relationship – good luck to them!
Nikki Ferrell – then
Nikki (luckily or unluckily, we're not sure) found herself as the chosen one by Juan in the eighteenth season of the show. The couple dated for a number of months, but they soon split after continual arguing on both sides.
Nikki Ferrell – now
It wasn't all meant to be bad for Nikki as romance found her in the end. In October 2016, Nikki married an old friend of hers, Tyler Vanloo. The pair had known each other long before the show and had been friends for a long time before getting together.
Clare Crawley – then
The then 32-year-old from California was working as a hairstylist at the time she appeared on the show. Clare may have had a lucky escape from Juan though, as he was not the most popular of all the bachelors…
Clare Crawley – now
Clare has made attempts over the years to find romance on The Bachelor's spin-off shows but hasn't been lucky so far. Moving back to Sacramento, Clare has returned to the world of hairstyling rather than attempting any more dating shows.
Season 19: Chris Soules – then
Chris stole Whitney's heart during his time on the show! The farmer boy finished the season by proposing to his chosen woman and receiving a yes in return. The relationship was short-lived, however, as two months after the finale, they had split.
Chris Soules – now
Chris has been seen in the media after his time on the show for a rather tragic reason. He was arrested after he was alleged to have fled the scene of a fatal car crash. It seems as though life for this bachelor took a turn after the breakup.
Whitney Bischoff – then
Whitney was working as a fertility nurse before her time on the show, and left one fiancee up after she said yes to Chris' proposal in the finale! The two went on to mutually decide on the decision to split up, and apparently remained friendly.
Whitney Bischoff – now
Whitney has found herself in the arms of another man, and after losing out on the chance at one engagement ring, she has managed to replace it with another! Whitney found herself engaged to Ricky Angle in 2016, and announced the news on social media.
Becca Tilley – then
Sticking with what seemed to be the medical theme of the nineteenth season, Becca was working as an assistant at a chiropractor when she applied for her chance to be on the show. Unfortunately, her true soul mate was not to be found in Chris.
Becca Tilley – now
Becca gave the show another chance after her first go didn't have much luck. Returning the following year, she was once again rejected by the new bachelor – oh no! Becca has been left single (for now) and works on her lifestyle and fashion blog.
Season 20: Ben Higgins – then
When Ben starred as the twentieth bachelor on the show he was working as a software salesman. This man managed to sell himself to Lauren Bushnell too as she luckily accepted his proposal in the final episode.
Ben Higgins – now
The couple recently broke off their engagement, and it appears as though Ben has remained single ever since the split! He co-hosted a special Disney wedding show with his ex-fiance but doesn't seem to have done much since and kept out of the public eye.
Lauren Bushnell – then
Lauren was 26-years old and was the one to steal the heart of the 28-year old salesman. The couple lasted for a year when they left the show but released a public statement that they had decided to go their separate ways, leaving Lauren heartbroken.
Lauren Bushnell – now
Finding new love, Lauren has since got together with Devin Antin, an investor in real estate. The two have supposedly been friends for years and met a long time before Lauren had entered into the show. We hope it lasts!
Joelle "JoJo" Fletcher – then
JoJo was the runner-up in the season that saw two girls battling for Ben to pop the question. The show saw heartbreak for JoJo though as Ben told her that he loved her while on the show. This left poor JoJo heartbroken when she wasn't chosen.
Joelle "JoJo" Fletcher – now
Losing out on love on the show, JoJo embarked on her own journey instead. Heading to the female version, she won the love of Jordan Rodgers who popped the question in the final episode! The couple are due to marry when they are ready to, according to them.
Season 21: Nick Viall – then
The most recent bachelor to complete the show, Nick ended his season with style as he proposed to his chosen woman Vanessa Grimaldi. The couple had an incredible engagement in their Finland location! Unfortunately, the pair would go on to (once again) split up.
Nick Viall – now
Nick has since had a run on the dancing programme that appears to be written into the contract of all eligible bachelors, Dancing With the Stars. Since the split, he has kept relatively quiet, with rumors that he could potentially be about to play a role in an unnamed movie… Ooooh.
Vanessa Grimaldi – then
Vanessa was known for displaying her emotions openly during her time on the show. She managed to gain a hardcore following from fans across the nation, and the pair were often the ones that the public wanted to get together too, so they didn't disappoint!
Vanessa Grimaldi – now
Since the announcement of their break up earlier in the year, Vanessa has since returned to Los Angeles to celebrate her 30th birthday. Vanessa has been reported to be acting a lot more like herself now, and may finally be able to recover from Nick.
Raven Gates – then
Raven flew into the show owning her own fashion boutique, and ready to take Nick's love in her claws! Unfortunately for the dark-haired beauty, his love was not meant to be, as he went for the feather ruffling option in Vanessa.
Raven Gates – now
Since leaving the show, Raven has gained a reputation for being to the point and confident. She appeared on a spin-off of the show and found love in Adam Gottschalk. It seems as though they are smitten as the couple are still together to date!